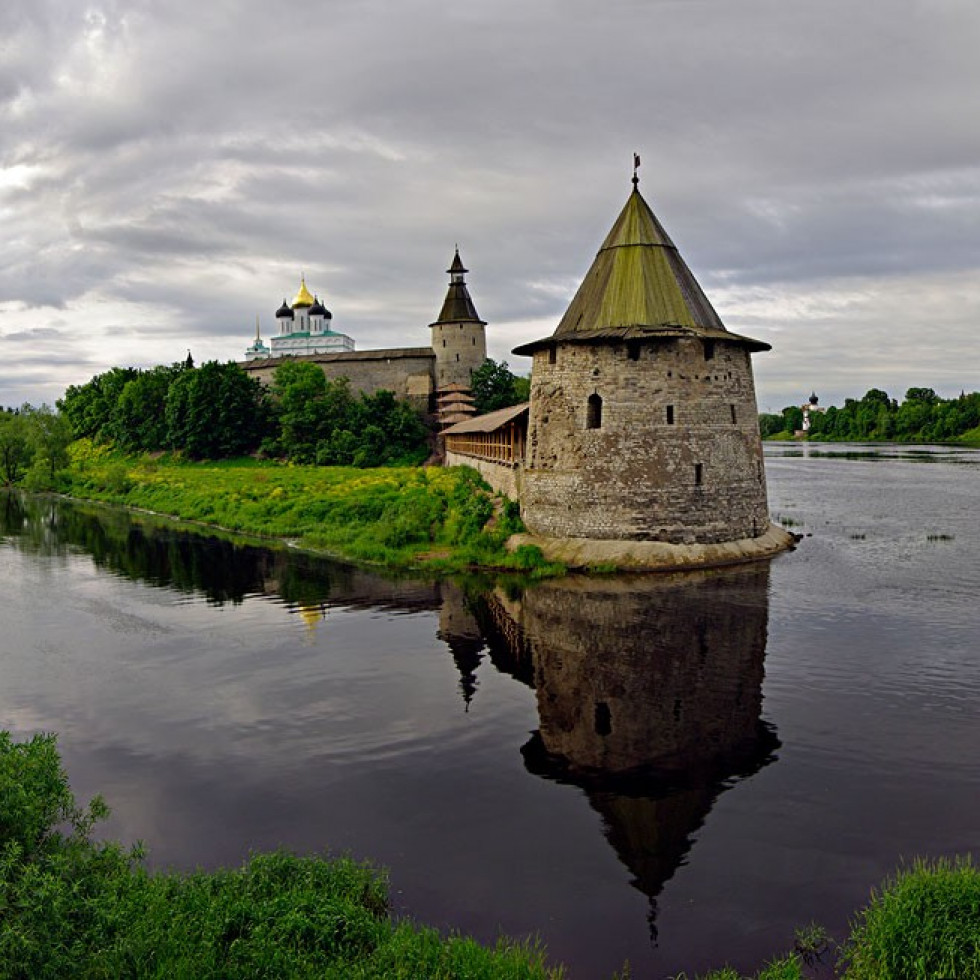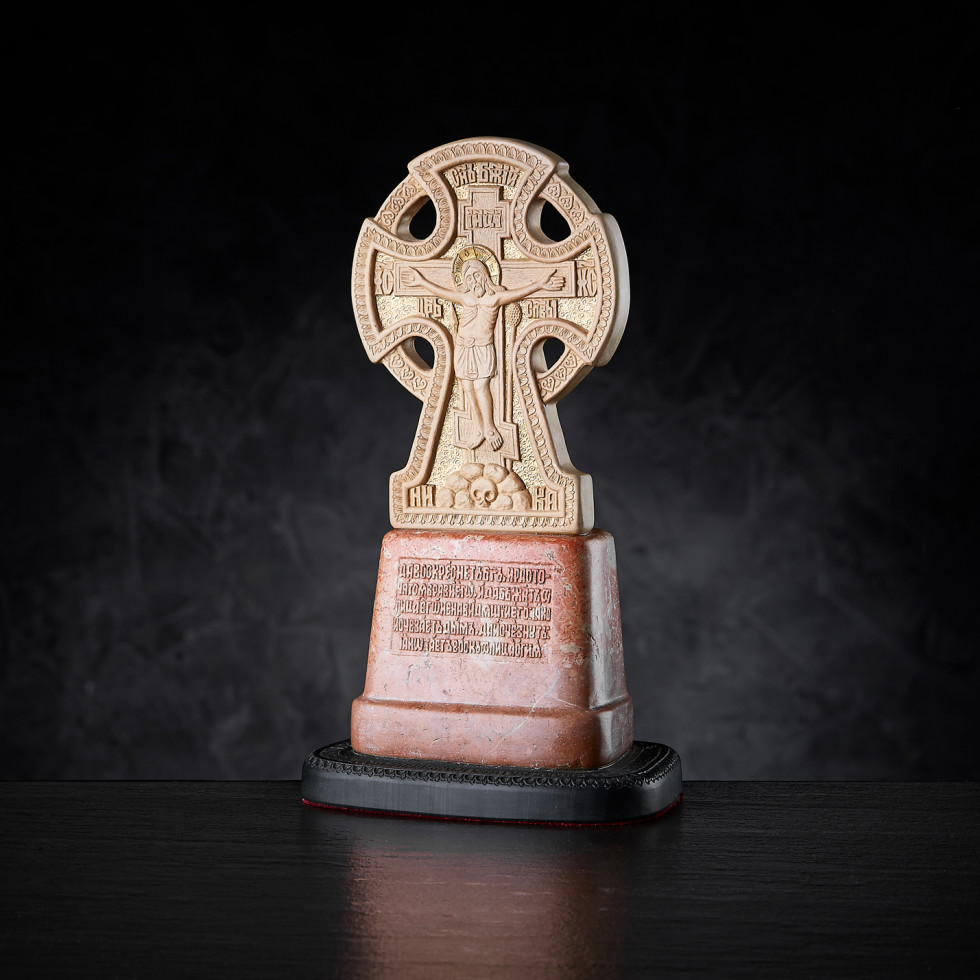 Biography
CHILDHOOD
Before attending primary school, the artist was brought up by his grandmother, Paraskeva. With her slow, measured steps, she would take the future artist of Orthodox icons to the only functioning church in the city: the Church of St. Paraskeva Friday. And although the path was long, his grandmother was of a certain age, and the little boy grew tired, they walked only on foot, because "the Lord gave you those little feet," recalls Vladimir now.
At primary school Vladimir was attracted to 'romantic' subjects: history, geography, geology, and applied arts: handicrafts and drawing. Although the narrow curriculum of study at the nearby colleges did not satisfy the future artist, he chose an industrial college after completing school, where he was most attracted to the technical sciences, in particular materials engineering and the theory of the strength of materials.
After completing a two-year course in technical sciences, Vladimir went to work at the Comet military factory, where he learned how to work with materials. The knowledge that he obtained in college and at the factory really helped the artist when he began to work with stone, since he had to use the materials at hand to work the stone.
ARTIST
He performed his military service in the north, on the Kola Peninsula, where the artist found his home. He spent the last year of his service as the regimental graphic designer in the officers' building. When he returned home to work again at the factory, Vladimir also changed position and became a graphic designer. He also took up painting and sculpture to satisfy his inner passions. He became acquainted with other artists who had natural gifts: at that time, there were a number of workshops for artists with natural talent, and regional artists would gather for these workshops on an annual basis. Vladimir's mentor was the Moscow master N. M. Rotanov, who softly and gently cultivated a taste for the arts in future artists, without touching on matters of philosophy or psychology: he simply taught them composition and artistic technique.
LOST TRADITIONS
The area where Vladimir lives is rich in slate, mica, and quartzite. The understated but deep colours of these minerals, ranging from greenish-blue to black, and their sparkling internal brilliance, attracted the artist's attention; it was then that he recalled a memory from his childhood and youth of seeing the stone-cutting art of ancient Novgorod, which he had learned about from museums. The artist was fascinated by the fine sculpture, the volume, scale, and depth, but most important of all was the meaning and spiritual power that these works of art had for people of Novgorod.
At one of these workshops Vladimir Mikhailov found a stone and, taken with the fine sculpture of Ancient Novgorod, realized the impressions that he had formed from museums and brochures in a cross.
Thus, an ancient stone-cutting technique that had almost been lost was reborn in the works of a modern artist. Having at his disposal the same tools as the ancient masters, Vladimir began to master the difficult technique of stone cutting. Only after 20 years did Vladimir decide to add more modern tools to his arsenal.
«BREAD SHALL COME FROM THESE STONES»
The creation of Vladimir's first cross coincided with the birth of his first child, his son Denis. Vladimir recalls now that it was as though this first stone was lying there in his hand.
Vladimir Mikhailov worked at the factory for 25 years. Once he reached retirement age and could receive a pension, he was able to fully devote himself to ornamental art. At first, this avocation was a matter of passion for Vladimir, but with time it began to generate an income. In 1983, when Vladimir created his first cross, it was difficult to live on his earnings from the factory, but his artistic interests provided important financial assistance for his growing family. Gradually, news of Vladimir's creations spread through his circles of friends and relatives and generated increasing numbers of orders. Thus, Vladimir took the words from the Bible, "Bread shall come from these stones," to heart, and they became true.
Working with stone is not some fly-by-night hobby, but a serious undertaking which requires a lot of time. Everything is made by the artist's hand, from the rough stone to the last nail in the box containing the new creation..
RELIGION
As he learned more and more about technique, the artist became immersed in the spiritual essence of the things he created, and learned about the spiritual significance of what he did.
Vladimir believes that the work must have congruence and integrity. It should demonstrate unity of matter and spirit: "In order to finish the work to a great depth, masterfully, fully, of course you need to study and delve into the spiritual side of what you are doing. Depth and complete understanding are needed."
FAMILY
Vladimir has raised a son and two daughters. Vladimir believes that the formation of an individual's character is closely tied to the creation of a family and raising of children; with the responsibilities and obligations that a person begins to feel.
RECOGNITION
Among the customers and buyers of the artist's works are the Novgorod and Petersburg Dioceses, as well as Moscow clergy. Many years ago, Vladimir received the blessing of the then Metropolitan of Leningrad Diocese, Patriarch of Moscow and All Russia Alexy II.
Vladimir's works can be found in churches and private collections, in Russia and abroad.
JEWELLERY. FAMILY SHRINES
Gold and silver are traditional materials for Orthodox symbols; they allow a family sacred object to be created, which can be passed down from generation to generation; the metal allows the artist to achieve unique and very fine detail in icons.
«Other materials will last for a time and then wear out, and they will remain, perhaps, only a memory among a handful of such objects; however, metal will retain its power for many, many years. And it can be passed down from generation to generation. A family heirloom, or a patrimonial sacred object is a wonderful thing: undoubtedly, to wear a cross that was worn by your grandfather requires you to be worthy,», - says the artist.
Since 2004, Vladimir Mikhailov has created a collection made of precious metals. The collection currently contains more than 400 pieces, including images of the most revered Russian icons: Our Lady of Kazan, the Panagia Portaitissa, the Theotokos of Tikhvin, and icons of saints: Saint Nicholas the Miracle Worker, Saint Pantaleon, Saint Seraphim of Sarov, Saint John of Kronstadt, as well as unique, complex and large works in gold: the 'Birth of Christ' Christmas Hinged Icon, the 'Last Supper' Easter Icon, the Table Icon of Saint Andrew the First-Called Apostle, the smallest Russian Orthodox Calendar of the Twelve Great Feasts, and a three-dimensional Easter hinged icon the size of a dove's egg, symbolizing the lines from scripture: «The Holy Spirit descended as a dove».